Nadine Shah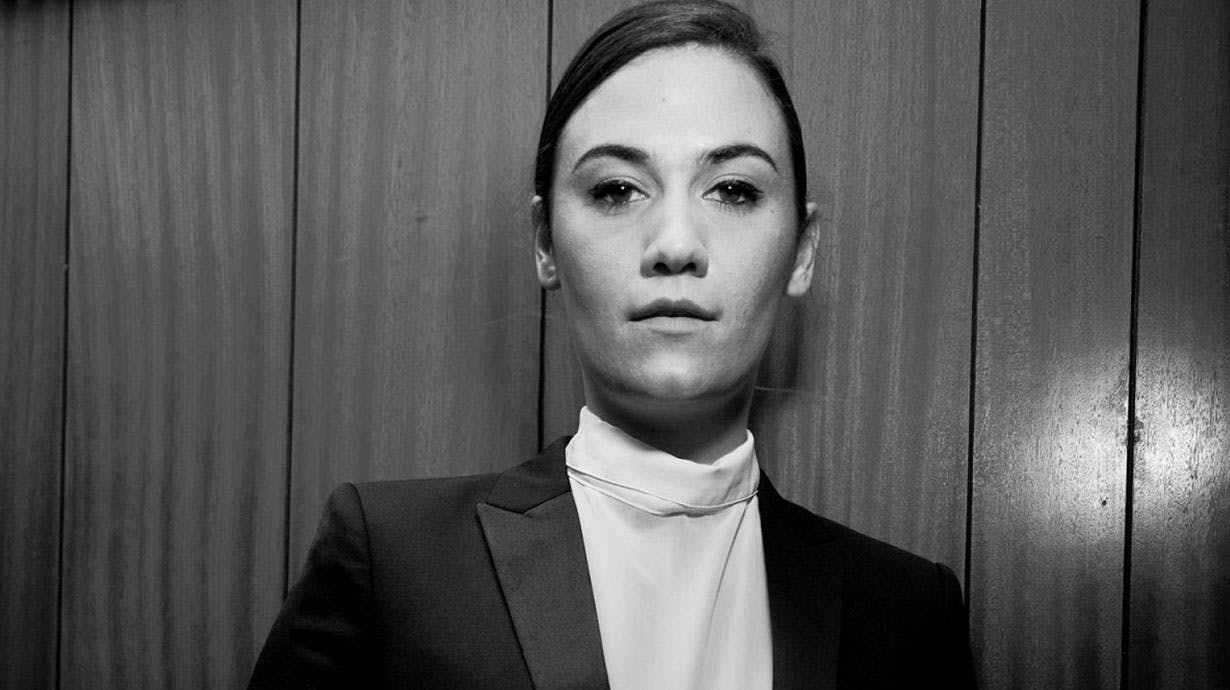 Two years on from her acclaimed debut Love Your Dum And Mad, Nadine Shah's back with a follow-up that's arguably even stronger. Here, the Whitburn-born singer-songwriter explains how past relationships, poetry lessons and her struggles with chronic anxiety informed Fast Food, and spills the beans on some interesting, upcoming musical projects.
So Nadine, how much truth is there in that whole "difficult second album" saying?
Yeah, I think it's total b*llocks. (Laughs) The worst thing is, that phrase just gets thrown around so lightly by friends and family, going, "Ooo, difficult second album!" So you don't really get much encouragement. (Laughs) But because I've [made an album] before it's always going to be easier; it's familiar territory.
Is there anything about the creative process that you approached differently this time round?
I think playing live informed the sound a lot more. There were one or two songs from the first album which made an audience move and that was pretty addictive. Also, looking around on stage at my band members really enjoying playing the louder songs was infectious. So, when I was writing the parts for this album, I was also bearing in mind what my band going to enjoy playing. And I had money this time round, so we recorded the whole thing in Ben [Hillier, producer/guitarist]'s studio, instead of just parts of it.
What was the starting point for Fast Food?
The first song was actually 'Fast Food'. I think we knew from the beginning that that was going to be the first track, and lyrically it sets the tone, because the album is about a succession of short-lived, intense love affairs. It's a coming-of-age album of sorts, about me approaching the end of my 20s and feeling a lot calmer, but it's also very, very reflective, especially where relationships are concerned, [discussing] the idea of coming to terms with people's pasts.
If you meet anyone in their late 20s, or 30s, or 40s, they have a romantic past. If they didn't that would ring alarm bells; I'd definitely be worried if someone hadn't been in love before. So that particular song is about the acceptance of it and the fear of it too. I think the [album] title is reflective of the speed at which it was recorded too.
How long did the album take to put together?
I mean, it wasn't rushed by any means. The first album was released in 2013 but it was actually completed in 2010, so by the time it came out it didn't feel like a proper representation of where I was musically any more. So I'd been writing loads since then, and already had a big bank of songs, and then I scrapped them all because I wanted [Fast Food] to be a much more coherent piece of work, with songs written in a similar period of time. [The album] was recorded within a few months, so it was a much shorter process.
Last time we spoke to you, you were going for poetry lessons. Did you continue with them?
No. (Laughs)
Were they at all helpful?!
Yeah, actually, in that it made me more confident in my writing style. I was always trying so hard to write things that were more complicated, and then I realised what bullsh*t that was when we were going around the room in this poetry class. They were wonderful people but they were all writing in almost the same style, and everything everyone was saying sounded so contrived; I didn't really get a grain of honesty in anything they were saying, anyway. So that made me more determined to stick to what I do.
Were there any other hobbies you took up that helped?
I've been doing dance classes. I'm like a bored housewife! (Laughs) Yeah, I started taking contemporary dance classes again, to improve my fitness but also to help with live performance. I'd moved away from playing the piano on-stage, and as soon as that barrier was removed I felt like an idiot; I didn't really know what to do with my body. So these lessons teach you to lose all your inhibitions, and I feel a lot more comfortable on stage now. Knowing what to do with my hands used to be a problem, and I have huge hands. There's actually a song on the album called 'Big Hands'.
On your debut you mostly wrote in character, but Fast Food feels more autobiographical. What inspired that change? Increased confidence?
Possibly. This album feels like more of a statement. For example, I put my face on the cover of the album, which I never wanted to do previously. This time I wanted to make a bold statement, and if that has to be a very personal thing for you, then so be it. Also, [my life] is what I know most about. I think you can spot if someone's being honest, too, so if you are writing something that's from personal experience, the stories and the way that you perform songs have a lot more conviction to them.
There's a definite sense of anxiety pervading the record. Are you drawing on past experiences or is that anxiety still a reality?
Yeah, I have chronic anxiety. It went undiagnosed for a very long time, so I thought it was a heart problem, which was awful. Then I did a cognitive behavioural therapy course, which helps you pinpoint what the triggers are for your panic attacks. So yeah, on 'Stealing Cars' I was writing about how my anxieties would manifest themselves in my dreams.
Considering the personal subject matter, are the songs uncomfortable to perform live?
I much prefer performing this album because the subject matter on the first record was quite harrowing. I mean, each song is a portrait of people that I have loved and do love, and a lot of my friends know who certain songs are about, because there are certain details in songs that are giveaways. So that I find very uncomfortable; playing the songs live is a bit like hanging your dirty laundry out for everyone to see. Luckily I'm still very good friends with a lot of the subjects, so I did consult them first. And I think that secretly they were all pretty flattered to have songs written about them. (Laughs)
You can definitely sense some score-settling going on during 'Fool' and 'Washed Up', and we did wonder if there were going to be a load of ex-boyfriends wincing as they listened to the album.
(Laughs) Yeah, probably! One certainly; the guy I wrote about 'Fool' about. But I also sent him a message to apologise and he laughed about it, so I think it's alright.
The dig about Nick Cave in 'Fool' is particularly good.
Well, it was meant to be quite tongue-in-cheek because I bloody love Nick Cave, and the same with Kerouac as well. I think that song was also informed by living in East London, being surrounded by these kinds of characters. It's that thing where you live in a place like that and you want to consider yourself unique, but all the things that you see in the people around you, and hate, are present in yourself too. Like, you're living in that environment too, so who are you to judge?
On 'Divided' and 'Living' you reference the expectations of your family to behave "in a classy kind of way" and bring a boyfriend home to meet the family. Are those lines specifically about your experiences, or is it more about societal expectation?
Both. I think it's the combination of coming from a Pakistani background and from a North-Eastern background as well, so there is so much focus on maternal aspects during growing up; getting a stable job and having kids. And a lot of my friends and family in the North East settled down quite young, so there is that expectation.
'Nothing Else To Do' is interesting too: the way it begins quite serenely, but the longer that mantra goes on the more unsettling the song becomes, culminating with those discordant guitar sounds.
Lyrically, not much of this album was informed by literature or dialogue in film, but this song was. I can't remember the film now, but there's a line in it where one of the characters says, "There was nothing else to do but fall in love." And it's a beautiful sentiment, but by repeating it, it becomes quite sinister. It sounds like you choose to fall in love, just to pass the time, because it's something that colours the pages of the everyday. So that's why we added that guitar at the end, after the horn section; to be typically goth, we leave it on a sour note. (Laughs)
Is there anything you've learned about yourself in the process of making Fast Food?
Personally, probably not. In regards to musicianship and technicality, yeah. The first time round, it felt a bit "Emperor's New Clothes", like everything was a fluke. Whereas, now I feel like a much more competent musician, and much more worthy of the title of being called a musician. Whatever job you do, if you get to a point where you feel like you're doing a good job, it's a really lovely feeling.
So what's the plan for the rest of 2015. Festivals?
I'm playing Latitude and End Of The Road, and there are quite a few European ones, that I can't remember the names of. But I actually want to tour a bit less this year. Although I love performing this album, I want to get on with making the next album.
Have you started thinking about the follow-up?
Yeah, I've almost finished writing it. It's been a few months since we finished mixing [Fast Food], and I do treat this like my full-time job. Every day I dedicate a lot of time to writing, apart from on weekends. So, yeah, I hope to get the next album out around the same time next year.
You recently collaborated with Ghostpoet, and before that with Maya Jane Coles. Are there any more collaborations in the pipeline?
Yeah, there's one project that I'm going to be working on. It'll be under a different name, and Ben will be involved again, as well as two other musicians we're inviting in... I can't say who they are yet! One of them we've met on a few occasions now, and have been out drinking together. He's a really good drunk, which is important. (Laughs) It's not just about whether you gel musically, it's about finding like-minded people that you are going to be able work in a room with for a concentrated amount of time.
So I think it'll be an EP that comes out at some point, and I don't know if there'll be touring – it depends how it goes. At the moment we're at the stage where we're just sending each other ideas, and there should be some recording in a few weeks' time...
April 2015